Why should you use fluoropolymer coatings from NonStick.pl?
The industrial PTFE coating made of different materials is a specialty of our company. The coatings we use are characterized by high temperature resistance, low friction coefficients, excellent electrical insulation and chemical resistance. We coat both large format materials and large parts. Unlike other companies, we apply fluoropolymer coatings regardless of the size of the order. We coat both large series and individual parts for best function in consistent quality. The almost complete absence of solvents is part of the company policy, which is geared towards sustainability and environmental protection. by NonStick.pl.
We invite you to use our industrial PTFE coating service, we will be happy to help you and find the right non-stick solution for you. Benefit from our experience and expertise!
Industrial PTFE coating - what is it about?
PTFE is a commonly used trade name for the fluoropolymer obtained by polymerization of tetrafluoroethylene. This is an innovative material with exceptional semi-crystalline and thermal properties, completely changing the parameters of various types of objects. This material can work in conditions up to 260°C, is characterized by excellent electrical insulation and resistance to almost any element, solvent or chemical compound. Fluoropolymer treatment is used for various types of kitchen accessories and chemical apparatus, as well as in technology, installations or the arms industry. This process can include both coating new components and refurbishment of used elements.
Non-stick fluoropolymer coating is used for the food industry, automotive industry, textile and paper industry, plant and mechanical engineering, clean room applications, packaging industry, mold making, rollers, pharmaceutical industry and bakery, such as to non-stop coating cone rounders, baking trays and baking molds. This process can include coating new components as well as refurbishing used elements.
All of our non-stick coatings do not use the previously used surfactant PFOA. In any case, PFOA never played a role in the end product because it degraded in the curing process of the coating. But it was an issue as a polluting factor in production.

If the fluoropolymer coating applied to the materials begins to wear off, then re-applying PTFE is carried out. This process is preceded by the removal of the old coating as a result of micro-sanding. After the preparatory stage, you can start applying coatings, which takes place in a specially designed room, equipped with an extensive filtration system.
At NonStick.pl, fluoropolymer coating is carried out by spraying, electrostatic powder coating or using Dip Spin technology. The final stage includes burning and hardening the surface at high temperature – so as to obtain the required parameters and durable finish of coated objects. An additional heat treatment of the non-stick coating also increases the scratch resistance and thus the mechanical resistance of the non-stick coating. Examples of non-stick coatings include PTFE coatings, PFA coatings and FEP coatings.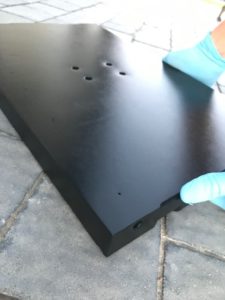 As graduates of the Polytechnic, we have been combining passion and experience with modern technologies for years. Industrial PTFE coating a very important part of equipment manufacture and maintenance. So that nothing sticks in your work. We strive to offer more than just applying PTFE coatings. We are developing together with the market. We are constantly expanding our horizons, modernizing production processes and adapting to current needs.
Industrial PTFE coatings, or Polytetrafluoroethylene are superior non-stick fluoropolymer coatings with a very durable thin film coating. These products have the highest operating temperature of any fluoropolymer and have an extremely low coefficient of friction, good abrasion resistance and chemical resistance.
Our coatings are the sum of our experiences. We coat both new elements and regenerate used ones. Fluoropolymer coatings applied by us not only facilitate work but also significantly extend the life of machine parts and devices exposed to rapid wear throughout Europe. We are especially proud of our NonStick One™ superior coating.
We love what we do and it gives us a lot of joy. We care about your satisfaction. Belief that we met your expectations. So that nothing sticks and your work is easier.