Nonstick coating refurbishment
Our PTFE coating services reduce your production downtime. Thanks to the possibility of re-applying the PTFE coating, you can significantly reduce production costs and extend the working time without sticking. Our technology allows you to remove both, carbonized residue and old coating, before we apply a new one. In many cases, our coatings offer better non-stick properties than those recommended by machine manufacturers. Try our PTFE recoating service Today!
In this paragraph, I'm going to discuss why by using our PTFE recoating coating services you make your work easier. From today it will run without sticking. In addition, you will gain the highest chemical resistance and a low coefficient of friction from 0.02. Our rigorous but effective quality control guarantees your satisfaction with every coating we apply.
Firstly, our fluoropolymer PTFE, PFA, FEP and ETFE coatings can be applied to steel, aluminum, steel alloys, brass and magnesium, as well as ceramics, rubbers and plastics. We also regenerate used PFA coatings, which significantly reduces the total costs compared to the continuous use of new parts. We are happy to undertake any project, which is why we do not impose a minimum order size. PTFE coatings, or Polytetrafluoroethylene are superior non-stick fluoropolymer coatings with a very durable thin film coating. These products have the highest operating temperature of any fluoropolymer and have an extremely low coefficient of friction, good abrasion resistance and chemical resistance. For example, we are providing PTFE coating services for moulds to protect sticking of the rubber to the moulds during the manufacture of treads. These PTFE coating for moulds make the mould non-stick, corrosion resistant and long lasting.
Before
After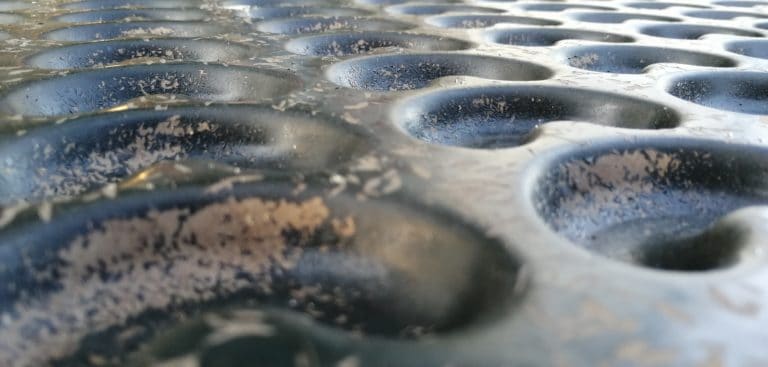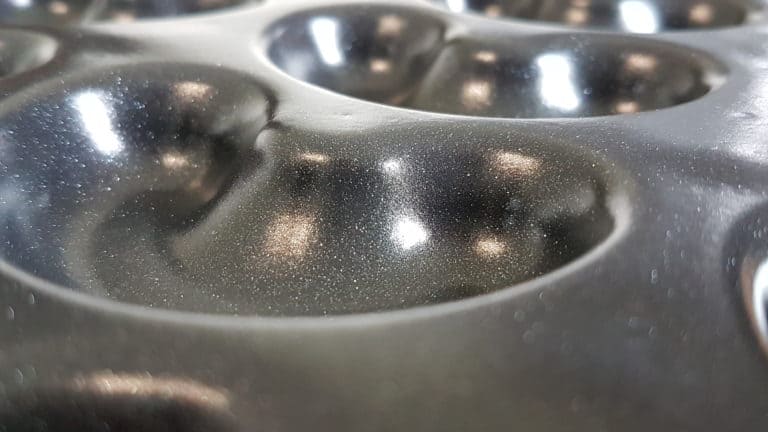 Secondly, fluoropolymer coating is used in the chemical industry, mechanical engineering, automotive industry, sealing industry, packaging industry and in the food industry. Fluoropolymer coating in the food industry has the advantage that many our coatings have FDA and EU food approvals, such as FDA CFR 21 and the EU 2004/1935 / EG. PTFE coating services have the highest operating temperature of any fluoropolymer and have extremely low coefficient of friction, fair abrasion resistance and good chemical resistance. This coating is normally used where a dry lubricant or low friction, or corrosion resistant coating is necessary. One of the most popular uses of PTFE coatings is for non-stick applications and cookware needed for food grade coatings. You'll often find ETFE in hoses that are used to transfer chemicals, connectors, and lines for product interchange. Refrigeration systems and steam lines also contain PTFE. The material typically replaces corrugated, stainless steel hoses.
Get a free quote Call us! +48 518 796 581

Thirdly, and most importantly, our short lead times allow you to further minimize the size of your warehouse, which translates into additional savings. We apply a variety of composite fluoropolymer coatings for surface release: minimising unwanted adhesion of products to production machinery, reducing cleaning time; product wastage; contamination of product, and damage to machinery.
In conclusion, our range of fluoropolymer coating services, including PTFE, provide exceptional properties for applications requiring minimal friction (non-stick), corrosion protection, chemical resistance and high temperature tolerance. Do you care about non-stick effects? Chemical resistance? Corrosion protection? We will be happy to choose the right non-stick coating for your application.
Benefits of using our nonstick coatings
Polytetrafluoroethylene (PTFE) is a synthetic fluoropolymer of tetrafluoroethylene. Being hydrophobic, non-wetting, high density and resistant to high temperatures, PTFE is an incredibly versatile material with a wide variety of applications, though it's perhaps best-known for its non-stick properties.
increased resistance in extreme hot and cold conditions

baking without using fat

non-wetting

easy to clean – you save time, water and energy

high working temperature – up to 260°C

unmatched durability 

reduced friction working with other parts

approved for contact with food

maintenance-friendly

non-stick and releas