Industrial PTFE recoating service
At Nonstick.pl PTFE coating and PTFE recoating service is available in powder and liquid form. PTFE non-stick industrial coatings offer nearly limitless versatility and function for a multitude of industries. Our coatings are desirable for use across many applications, based on the following properties: 
Nonstick: Very few solid substances will permanently adhere to a PTFE coated finish. Although tacky materials may show some adhesion, almost all substances release easily.

Heat resistance: PTFE fluoropolymer coatings can operate continuously at temperatures up to 260ºC, and can be used for intermittent service up to 316ºC with adequate ventilation. The thermal stability of the coatings means that they can be used in high heat environments without losing or affecting any other properties.

Non-wetting: Since surfaces coated with PTFE are both oleophobic and hydrophobic, they are not readily wetted. Cleanup is easier and more thorough — in many cases, surfaces are self-cleaning.

Electrical properties: PTFE industrial coatings have a high dielectric strength, low dissipation factor, and high surface resistivity over a wide range of frequencies. 

Abrasion resistance: Excellent durability and toughness help PTFE industrial coatings resist scratches and abrasion. Coatings with added fillers keep scarring to a minimum, both on new and recoated parts.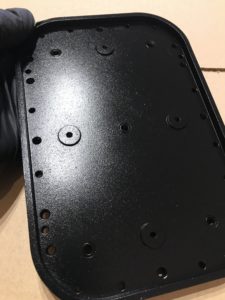 NonStick One™ 
It's our in-house developed bespoke coating. It has best-in-class quality, consistency, precision, durability and lubriciousness. Some say it's the most durable non-stick coating in the world.
PTFE coating
The highest operating temperature of all fluoropolymers, up to + 260°C. The lowest coefficient of friction. Good abrasion and chemical resistance completes the list of its advantages. Can be used in the food industry.
Before
After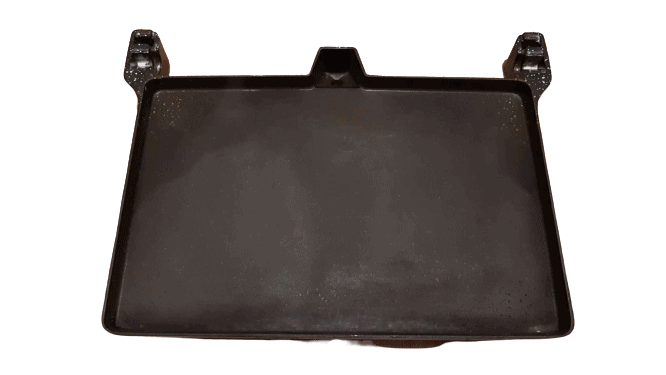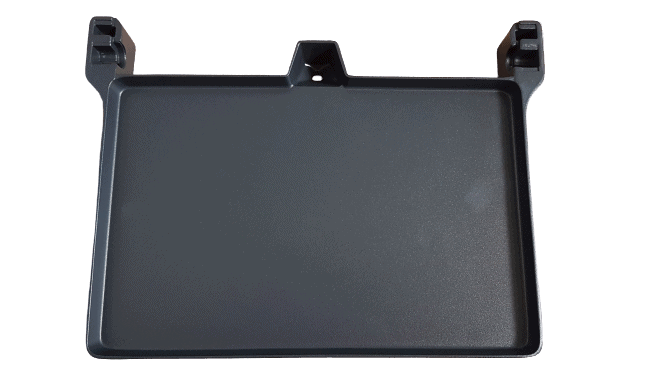 PFA coating
It melts and flows when baking in our oven, thanks to which we get a non-porous film and increased resistance to penetration. In combination with high continuous working temperature +260°C and higher hardness than PTFE or FEP they will ensure easy work. Can be used in the food industry. Since PFA coatings are available in both water and powder form, the type of products to be coated is more versatile. All aluminum, steel and stainless steel materials as well as many other metallic elements can be coated with PFA coatings.
FEP coating
Like PFA, FEP melts and flows when baking in our oven, thanks to which we obtain a non-porous film and increased resistance to penetration. In addition to its excellent chemical resistance, it is distinguished by its high dielectric strength. The whole is complemented by a high operating temperature of 200°C as well as excellent anti-adhesive properties and a low coefficient of friction. Can be used in the food industry.
Get a free quote Call us! +48 518 796 581

ETFE coating
In our opinion, this is the most durable fluoropolymer coating. ETFE is a thermoplastic copolymer resulting from the polymerization of ethylene and tetrafluoroethylene monomers. The ETFE coating is extremely hard and resistant to abrasion. In addition, it is distinguished by excellent chemical resistance and operating temperature up to 150 ° C. Our coatings can be used in the food industry.
Phosphate coating
Phosphate coatings are used for corrosion protection and in manufacturing processes. They are applied to carbon steel, low alloy steel and cast iron. The coating consists of iron, zinc or manganese phosphate salts in phosphoric acid, which are applied either by spraying the solution onto the substrate or by dipping the substrate into the solution. A zinc phosphate coating on steel can prevent undercutting or rust from spreading if the PTFEcoating layer is damaged.
What other industrial PTFE coatings can you use?
Halar®
Halar® ECTFE, a copolymer of ethylene and chlorotrifluoroethylene, is a semi-crystalline melt processable partially fluorinated polymer. It is available in different grades that are specifically designed for electrostatic powder coating. Halar® ECTFE is particularly suitable for use as a coating material in protection and anti-corrosion applications thanks to its unique combination of properties. It's well known for its excellent chemical resistance and waterproofing properties. The semi-soft surface of Halar coating also makes it extremely valuable for ultrasonic parts-washing applications where the parts are delicate and have a no-scratch requirement.
Xylan®
Xylan® is the benchmark of industrial coatings; used to identify low-friction, wear-resistant composites of fluoropolymers and reinforcing binder resins. The Xylan industrial family of coatings (Xylan, Xylan plus, Xylan XLR and Xylan XLR HB) are extreme performance coatings – working under heavy loads, at high temperatures, in chemical and corrosive environments.